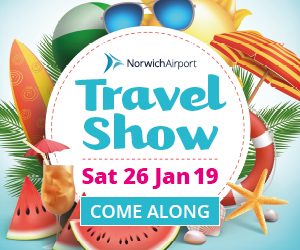 FREE ENTRY – FREE PARKING* – FREE PRIZE DRAW
Over 20 tour operator and airline representatives will be on hand throughout the day offering first hand destination and product advice on their departures from Norwich Airport.
Pop along for some holiday inspiration and talk to the experts; it's the only time you are likely to find so many collectively in one place in this region and its right on your doorstep!
Don't miss your chance to enter the airports free prize draw to win one of the fabulous prizes on offer including: – Flight tickets, flying lesson plus much more!
The airport travel agency will be offering an extra 5% off all holiday bookings made on the day plus Free holiday parking at Norwich Airport.
*Free parking available for visitors to the show, please use the short stay car park.