Norwich Airport has announced it will support the British Heart Foundation (BHF) as its Charity of the Year for 2019/20.
The one-year partnership will raise money to help the BHF fund life-saving research into heart and circulatory conditions such as coronary heart disease, stroke, vascular dementia, and risk factors such as diabetes.
Over the next year, passengers will be able to donate to the BHF in collection buckets found in the terminal and can also purchase BHF wristbands and keyrings.
Good-quality, unclaimed lost property at the airport will also be donated to the BHF's retail stores to sell.
Norwich Airport staff have pledged their support too, with plans for a charity bike ride and a football tournament to help raise further funds. BHF will also offer CPR training to ensure that even more staff at the airport have essential life-saving skills, and the BHF Health at Work team will support the airport to promote a healthy and happy workplace.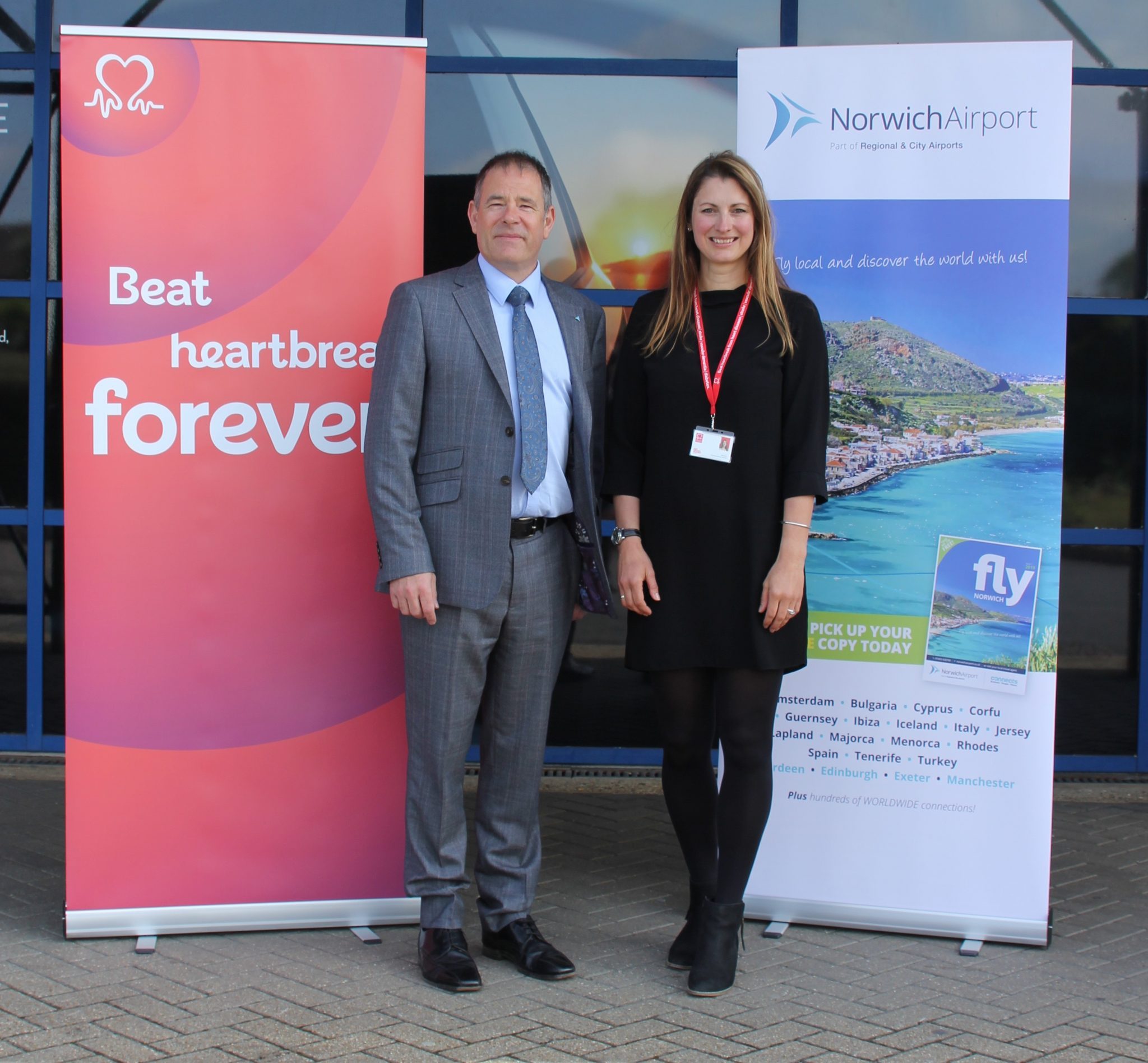 Richard Pace, Managing Director of Norwich Airport, said: "With more than half a million people passing through Norwich Airport every year this is a great opportunity to fundraise for BHF and to promote healthy living and lifesaving skills to a much wider audience. Our partnership with BHF will create an enduring legacy in our communities and we can't wait to get started."
In Norwich, there are more than 14,000 people living with heart and circulatory diseases. These conditions claim an estimated 300 lives in the city each year.
Dawne Hart, Fundraising Manager for the BHF, said: "We are thrilled that Norwich Airport has chosen to support the BHF this year and we are looking forward to working closely with them over the next 12 months.
"One in four people in the UK die from heart and circulatory diseases and that's why the research of the BHF into their causes, prevention, treatment and cure is so vital. The support of Norwich Airport will certainly help us in our mission to beat heartbreak forever."
Norwich Airport employs around 280 staff. It is part of Regional & City Airports, the airport management division of Rigby Group plc which also owns and operates Coventry Airport, Exeter Airport and Bournemouth Airport.
For more information about charity partnerships or fundraising for the BHF, please contact Dawne Hart on [email protected].