Silly socks for autism at Norwich Airport
Socks in every colour of the rainbow were on show at Norwich Airport on Friday (April 5th) as staff wore their silliest pairs to work in aid of people with autism.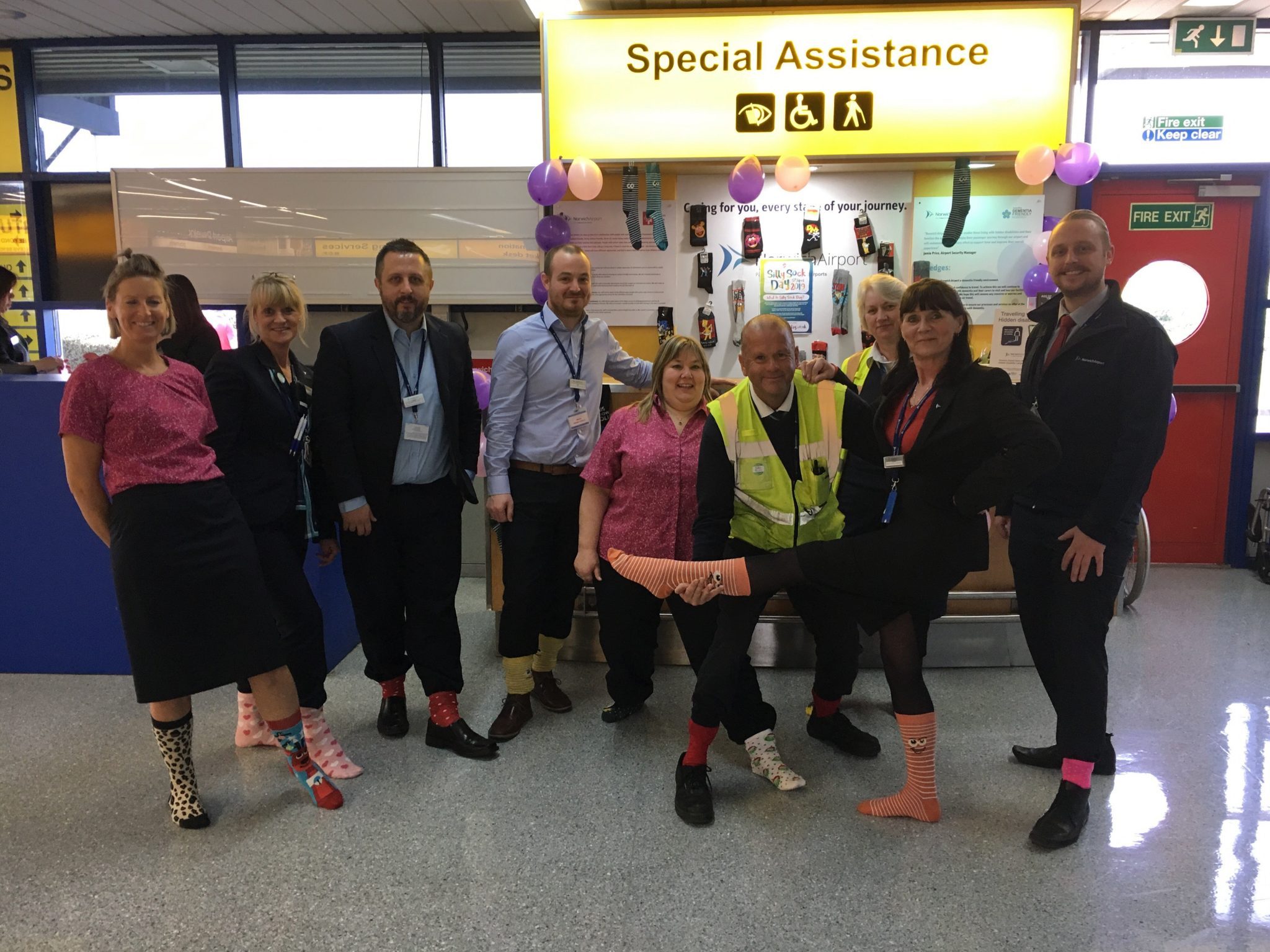 As part of the airport's commitment to supporting people with disabilities, staff joined Autism Anglia's Silly Socks Day.
The annual event helps raise vital funds for the charity and awareness of autism within the community.
Jamie Price, Norwich Airport Security Manager, said: "Wearing silly socks may seem like a small gesture, but it goes a long way in supporting our mission to becoming as autism-friendly as possible.
"We know that for some people with autism, visiting public places such as an airport can be an overwhelming experience.
"Thanks to expert advice from Autism Anglia, we have made a few simple changes to improve that experience for people with autism and their families and hope it will give them the confidence to visit the airport.
"We are proud to have taken part in this fantastic event and had great fun wearing silly socks to work."
Marisa Brennan from Autism Anglia said: "We are delighted to have been working with Norwich Airport in recent years, delivering autism training to them and helping them to enhance the experience of autistic individuals visiting the airport.
"From their personal one-to-one service to the pre-visit tours for those requiring to get to know the airport first, it is clear to us that Norwich Airport staff are demonstrating their desire and commitment to welcome the autistic community and make them feel as relaxed as possible."
Autism Anglia has been providing specialist guidance to the airport since 2015, in order to improve the service provided to people with Autistic Spectrum Disorders (ASDs) and their families.
The charity provides valuable constructive feedback and positive steps have been taken to improve the airport services, including providing familiarisation visits prior to flying, a fast-track lane and an alternative, quieter route avoiding the hustle and bustle of airport shops.
In 2017 the airport signed the Autism Charter, demonstrating its commitment to aiding ASD travellers.
The airport regularly meets with Autism Anglia to ensure continued improvements and airport staff also undergo specialist training. Staff that have completed the training can be identified by Autism Anglia pins.
Norwich Airport has attended three events hosted by Autism Anglia with the aim to promote the Special Assistance service to people living with hidden disabilities.
The airport will be attending the Autism Anglia conference. Autism Anglia is hosting the conference and information day to bring together the local autism community and share knowledge and best practice.
This event is being held on Thursday 27th June 2019 at the University of Essex, Wivenhoe Park, Colchester, CO4 3SQ. The event will include key note speakers from autism professionals, a Q&A session, afternoon workshops and an autism marketplace offering over 250 delegates valuable information on other services and autism providers. https://www.autism-anglia.org.uk/Event/conference2019
Autism Anglia have published a brochure on how businesses and organisations can join the Charter and become Autism champions. Norwich Airport sponsored the production costs for the brochure.