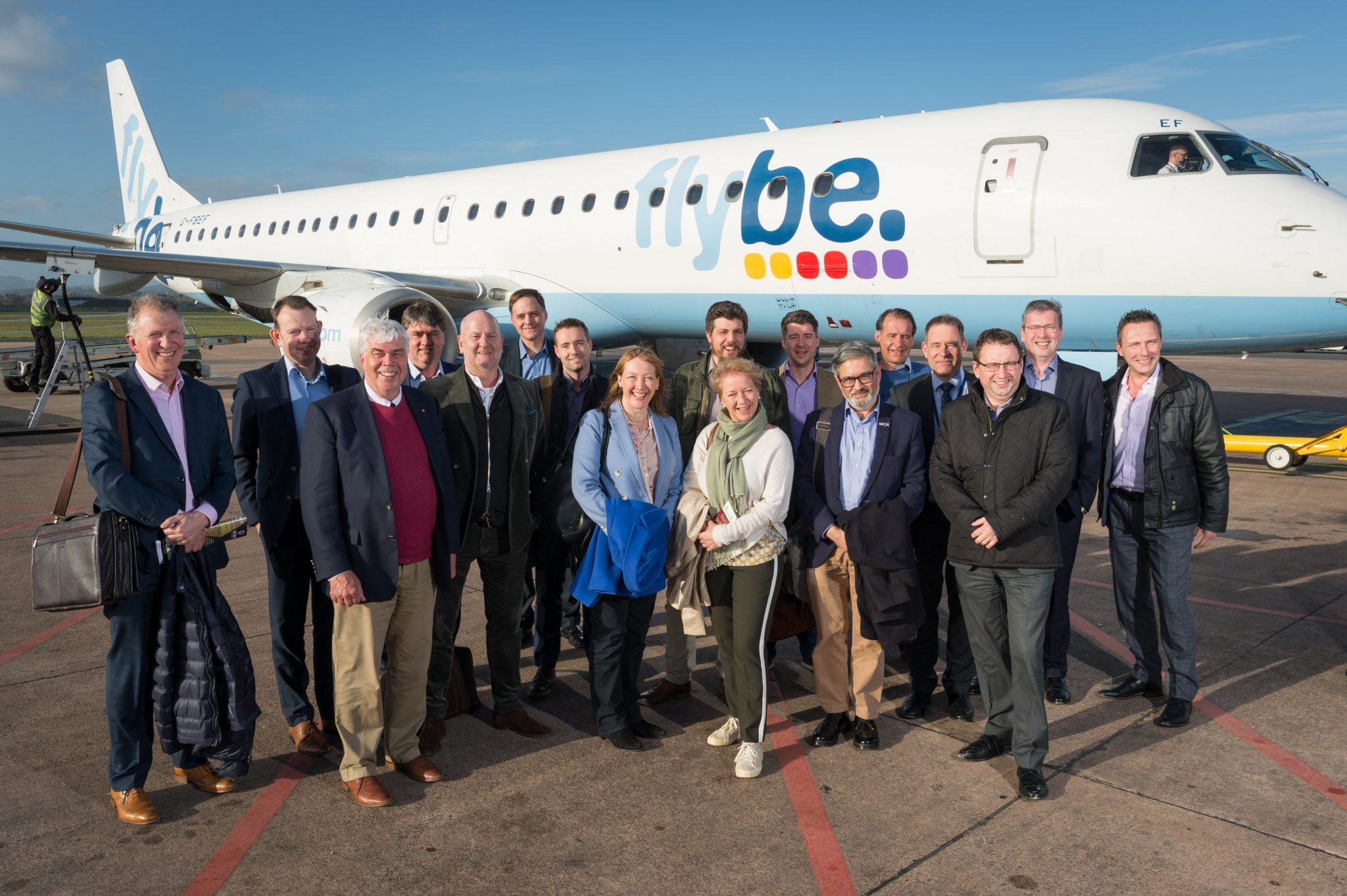 Business leaders from Norfolk and Suffolk discovered the benefits of connecting regional economies on a recent trade mission to the South West.
A delegation of 20 visited the area to learn more about its nuclear power and food and drink sectors, and to seek mutual business opportunities.
After flying from Norwich Airport to Exeter Airport, the delegation visited Hinkley Point C nuclear power station in North Somerset – the largest construction site in Europe – and the family-owned Trewithen Dairy in Lostwithiel, Cornwall.
With many similarities between the regions, including the thriving food and drink sectors and the design of Hinkley C being replicated at Sizewell C in Suffolk in the near future, the visit was hailed a great success.
Richard Pace, managing director of Norwich Airport, said: "Once again the importance of connecting regional economies and the opportunities for partnership between our regions have been highlighted.
"There is enormous potential in terms or businesses working together, and the Norwich to Exeter route is proving to be an important part of this. It's a 45-minute flight compared to a five or six hour rail or road journey, so there are huge savings in terms of time and efficiency in the working day."
The visit was arranged by Norwich Airport and Exeter Airport through their respective Connects business ambassador networks, which aim to forge closer trading links between the regions. Both airports are part of Regional and City Airports, the airport management division of Rigby Group plc.
The trip builds on a trade mission from the South West to Norwich 18 months ago and was supported by the South West Business Council, New Anglia Local Enterprise Partnership (LEP) and Flybe.
Doug Field, Chair of New Anglia LEP, said: "There are many opportunities within the UK to strengthen our local economies and this visit has enabled us to explore how our regions can collaborate to accelerate growth.
"Regional airports are important hubs and we need to do more to maximise their benefits and improve that connectivity. Our growing relationship with the South West of England could open doors for new business and trading collaborations.
"We were particularly interested in the nuclear new build at Hinkley Point and applying best practice ensuring that any potential future development at Sizewell will generate maximum benefit for local businesses across the supply chain, create more contract opportunities and boost local jobs."
Nova Fairbank, head of policy for Norfolk Chamber of Commerce, said: "The sheer scale of the operation at Hinkley Point C is amazing – the vastness of the site and potential opportunities for businesses is enormous and really exciting to see.
"Watching Hinkley unfold is a fantastic learning opportunity for us. We're looking at what was done well, what were the pitfalls, how to avoid them, how to make Sizewell C go faster and better in terms of delivery."
John Dugmore, Chief Executive of Suffolk Chamber of Commerce, said: "With two similar economies – both rural, both reliant on similar sectors – it's been invaluable to share best practice.
"It's also been fascinating to see how the Chambers of Commerce in Somerset have worked with the business community to get into the supply chain, where £1.6 billion worth of contracts have been delivered to local businesses through the building of Hinkley Point C."
Sandy Ruddock, owner of Suffolk business Scarlett & Mustard and a Board member of the New Anglia LEP, said: "Both our areas are slightly out on a limb so it has been really good to hear how the South West is overcoming things like distribution and how smaller businesses are getting together. Rather than competition, there's a real air of collaboration and I think we can learn from that and really move forward."
The Norfolk and Suffolk delegation comprised the following:
Food and drink businesses: Scarlett & Mustard, East of England Coop, Hillfarm Oils, The Wildmeat Co, Food Enterprise Park and Bullards Spirits.
Energy sector representatives: EDF Nuclear new build, East of England Energy Group, Suffolk and Norfolk Chambers of Commerce, EnerMech and Suffolk County Council.